Everything to Know About Ridgewood's 4th of July Celebration
Ridgewood's 4th of July Celebration is a Beloved Annual Tradition: Ridgewood Fourth of July Flag Raising, Parade, Evening Celebration, and Fireworks
Schedule of Events:
9am Flag Raising, Wilsey Square
10am Parade begins at North Monroe Street and Godwin Avenue
6pm Gates open for Evening Celebration – music, food trucks, and more, including…
9pm FIREWORKS at Veterans Field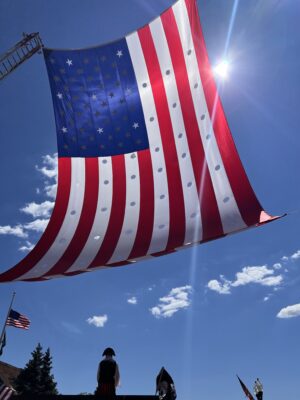 There are many things that make this a magical place to live, but Ridgewood's 4th of July celebration consistently ranks near the top of the list. We've compiled all of the necessary information – as well as some history and fun facts – for you to enjoy this beloved tradition in our village.
RIDGEWOOD'S 4th OF JULY CELEBRATION HISTORY
It has been going strong for 113 years! The first celebration occurred in 1910.  A full history of the event can be found here https://ridgewoodjuly4.net/celebration-history/ridgewoods-parade-history/
FLAG RAISING
The annual flag raising kicks off the celebration in a patriotic way. It takes place at Wilsey Square near the train station. Here is the 2023 order of events:
2023 Flag Raising Order of Events
Committee Welcome
Ridgewood Village Council Address
Recognition of 2023 Special Guests
Grand Marshal: Coach Chuck Johnson
Flag Raising by Ridgewood American Legion Post 53
"To the Colors"
"The Star Spangled Banner"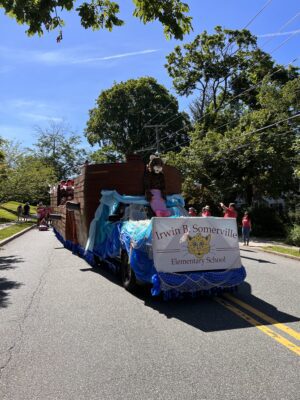 THE PARADE
All elementary schools get involved and create a themed float to be featured in the parade. You'll see students and their families proudly walking alongside their creations to show off their school spirit and their dedication to the community.
Each year has a theme celebrating a certain aspect of American culture and tradition – this year, the theme is "Made in America," and the float and flag raising will follow this theme. We will celebrate technology, entertainment, and innovations made in America throughout its history!
The celebration often includes and honors national heroes – in 1981, famed astronaut Buzz Aldrin came!
The parade goes through the heart of town and honors students, servicemen and women, police officers and firefighters from Ridgewood and surrounding areas, local athletes, and features plenty of music and classic cars.
You'll be sure to notice the dedication of local village residents and their families! People start lining their chairs along the parade route a week in advance to claim the perfect spot to watch the festivities.
EVENING CELEBRATION AND FIREWORKS
After the parade, residents enjoy the day at our local parks, Graydon pool, or family BBQs. Then, they gather at Veterans Park for the evening festivities. This year, gates open at 6pm for food vendors, live music, and ice cream. Fireworks will begin at approximately 9pm! It NEVER disappoints. Buy tickets online ahead of time for a discount here: https://ridgewood-fourth-of-july-celebration-inc.ticketleap.com/ridgewood-fourth-of-july—fireworks-2023/ or you can purchase tickets at the gate.
Ridgewood's 4th of July Celebration is a non-profit, all volunteer organization that relies on sponsors, private donations and fireworks ticket sales to fund the day's festivities, security and all other costs.
To learn more about Ridgewood, visit our website: https://ridgewoodrealestateoffice.com/
For more information, visit the official Ridgewood Fourth of July website: https://ridgewoodjuly4.net/