7 Inexpensive and Easy Home Upgrades To Do Now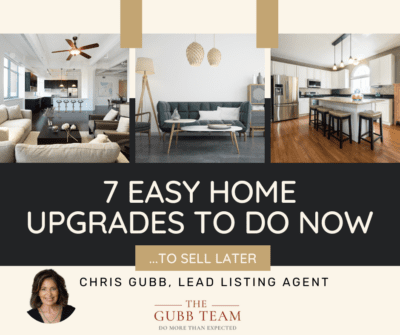 Thinking about Selling Your Home This Year? Here are 7 Easy (Inexpensive!) Home Upgrades to Do Now
Home upgrades do not have to be difficult or expensive! Even if you are considering selling in the Spring 2024 housing season, NOW is the time to begin preparing your home to sell. Buyers are looking for a home that is not only in excellent condition, but also is suited to their needs. Here are some ways to upgrade your home when preparing to sell that will not only increase value, but also will appeal to more buyers.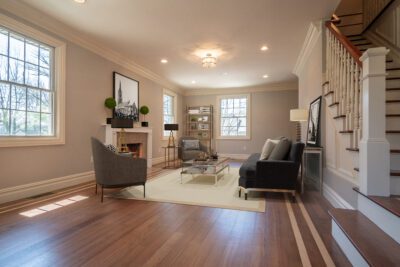 Start De-Cluttering
We all acquire "stuff" throughout the years, especially when raising young children. A major part of the Gubb Team's home staging process is to pack away excessive items. Begin now! Make a pile of clothes, toys, and housewares to donate (excellent idea for the upcoming holiday season), to throw away, or to preserve in storage. Bonus: it may even make you destress a bit 🙂 See Marie Kondo for inspiration. https://konmari.com/
See more about the Gubb Team's staging process here: https://ridgewoodrealestateoffice.com/sell/staging-service/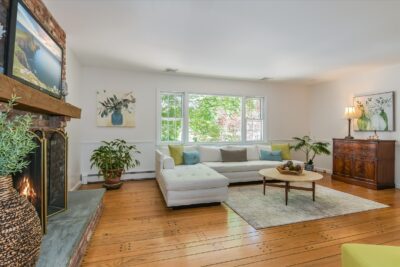 Upgrade the Kitchen
You don't have to do a complete kitchen renovation to increase value and appeal. Rather, the kitchen can look completely different by changing the cabinet hardware. It may even be worthwhile to resurface the cabinet faces and stain or paint them. Consider changing the faucets in the sink – another easy change. If your appliances do not match or have been around longer than Law and Order reruns, it may be worthwhile to replace them. Being able to list your home with "stainless steel appliances" instantly draws buyers!
Add Light
Look around your home at night. If it seems dark and dull, consider adding some light. Recessed lighting can only go so far to brighten the space. Adding chandeliers and light fixtures or changing out the current light fixtures will make your home stand out. Additionally, changing the light bulbs to be as bright as possible will make the space seem much more open and inviting.
Paint dull or extremely colored walls
Paint is inexpensive and an easy way to change the look of a room. While your kids may have loved their lime green bedroom, a potential buyer sees it as a headache. On the contrary, white walls are boring and look unfinished. Aim for bright, neutral colors like soft grays and yellows. Don't forget to prime! Touch up the baseboards and crown molding to ensure that they pop against the new wall colors. Benjamin Moore Revere Pewter is a neutral color that looks good anywhere.
Increase Curb Appeal
Hire a landscaper do a cleanup. In Bergen County, the average landscaper charges less than $200, but it can completely change the look of your yard. Bring in plantings before winter, pull out dead shrubs and weeds, trim the hedges, pick up all the sticks and branches, and blow the leaves. It will set the scene for a clean slate in the spring thaw. For now, festive mums on the doorstep always look fresh. 
Upgrade Bathrooms
Much like the kitchen, buyers always look to the bathrooms when considering putting an offer on a home. You do not need to completely renovate your bathrooms to increase appeal. Regrout the tile and re-caulk around the shower, tub, and sink. These areas can wear away with time or look dingy. Additionally, replace any chipped tiles. Replace faucet hardware, and consider painting the wall to a bright color (see above painting tips). Lastly, changing the toilet seat can make a huge difference – especially if your bathroom is older. 
Tend to Floors
If your home is carpeted, it is imperative that you professionally clean them. (These companies clean tile floors as well) Be honest with yourself… if your carpets are beyond repair (homes with pets and small children especially), replace them with neutral carpet. Even better – if there are hardwood floors underneath, consider removing the carpeting altogether. Adding "hardwood floors" to your listing appeals to most buyers! If you already have hardwood floors, assess whether they need to be refinished or re-stained. This process usually takes a day or two to complete.
As always, contact The Gubb Team with any additional questions. Even if you are thinking about selling in the spring, beginning preparations NOW ensures a smooth selling process (for the highest sale price!) later.