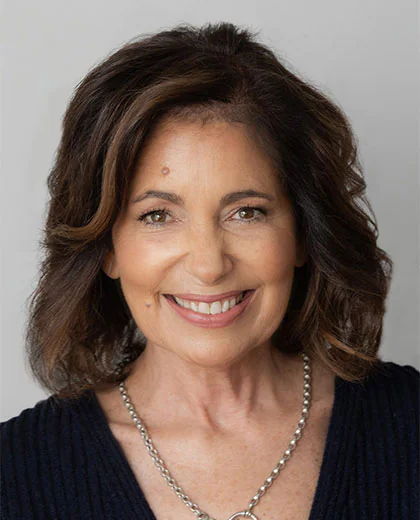 Lead Listing Agent
As the lead Listing Agent for The Gubb Team, Chris Gubb is recognized for delivering top results for her clients Selling in Ridgewood, NJ, and Greater Bergen County. With her vast experience in marketing and home sales, she adeptly sets your personalized plan with a creative vision and a practical approach that specifically targets those purchasing Homes For Sale in your town.
Beginning her career at a couture designer firm in NYC where she eventually headed the marketing division, Chris honed her skills in orchestrating multifaceted projects and promotions with national retail luxury chains. This experience confirmed her belief that a superior visual presentation is a powerful tool in achieving a successful outcome.
Today, Chris uses this same theory as she prepares and markets her listings. The Gubb Team stagers masterfully transform spaces using the Team's 1,400 staging items. A Home Report is generated for each listing outlining a concrete direction for seller preparations. From experience, Chris knows what steps are needed and, equally important, what will not impact your results. Chris has a team of pros to implement any repair or project in the preparation process.
Chris is keenly aware your home is one of your most valuable financial assets. Her goal is to maximize your outcome through strategic preparation, calculated timing, extensive exposure, and cutting-edge marketing methods. Her instinctual negotiating skills achieve optimum results and The Gubb Team's established tracking systems ensure a smooth transaction.
Understanding there is also a personal side to selling your home, Chris' guidance and genuine care in coordinating real-life schedules, individual goals, and your actual move are invaluable.
With numerous industry awards for outstanding achievements and a proven track record in Selling Homes in Greater Ridgewood, NJ and Bergen County, Chris considers her seller reviews the true measure of her success. These treasured words inspire her daily approach.
Hannah and Christopher Semmeles
Prior to partnering with Chris, I had heard "what she does is magic." I came to understand that her excellent reputation is due not only to her natural talent, knowledge, and years of experience, but also a result of the honesty, integrity, and care she and her team embody. She was professional and efficient, positive but candid, and present when we needed her to be. She and her team approached our house with impressive strategic vision and fresh creativity; Undertaking a home sale is often filled with uncertainty and anxiety. Chris Gubb simplifies the process and alleviates the stress with seamless execution. We just can't thank her and her Team enough for our outstanding results.
Jami Latham
Chris strategically coordinated our purchase and sale with masterful clockwork. Look no further. Chris and The Gubb Team are simply The Best. Once her team secured the purchase of our Dream Home in an extremely competitive market, she and her stagers jumped into action to prepare our home which sold well over list in a weekend. Several complications were met with calm hands-on solutions as our advocate and the impact of the move on our family was always top-of-mind. With an impressive experience of our home purchase 10 years ago, we never considered using anyone but Chris for our next move.
Gary and Susan McBrayer
People trust her because she is COMPLETELY trustworthy. People seek her representation because she seamlessly gets the job done at a lucrative price. Professional with the highest degree of integrity, there are good reasons Chris is regarded as the go-to listing agent in town by many. We have NOTHING but respect and appreciation for Chris and her remarkable team in the recent marketing of our home. Her in-depth market knowledge, understanding of human nature, timing strategies, and magnificent staging brought us multiple offers in days and a smooth transaction till closing. Always Available, Always our Advocate. We would never consider using another agent.
Gregory Philip
If there were 10 STARS to give, I'd give it! Like a well-oiled machine, Chris and her team seamlessly sprung into action implementing their impressive listing methods. The Gubb Team gets things done, goes the extra mile, and from Day 1 to close they were an absolute joy to work with. Negotiating is a skill! Chris has the experience level and instincts to achieve top results. Our results exceeded expectations and neighbors could NOT believe how fast and efficient our transaction was! Beyond professional. A sharp Veteran. Works harder than anyone I've ever met, and does it all with a smile & grace. If you are selling or buying a home, don't consider another. It can make the difference between a stressful situation with an ordinary outcome or a wonderful experience with outstanding results! We were proud to have The Gubb Team represent Us!
Ryan and Britanny Kaminski
Chris Gubb raises the bar as a Realtor. From staging to the closing table, she and her team were professional, knowledgeable, and results-driven. They know what to do to sell a house quickly and for top dollar which worked in our favor since we were unexpectedly relocating. We were more than pleased with the whole process and outcome. In fact, her commission seemed like a steal based on the result I know only she could have achieved.
Carolyn Brockmeyer Cates
Chris' superior interpersonal skills, market expertise, and design background resulted in our home receiving multiple offers well over list price within days. Throughout this process, she was patient, responsive, compassionate, and a wonderful listener. We were blown away by the talent of the entire Gubb Team whose vision adeptly transformed our home for the target market.
Jean Park
Chris & her team are simply the best! We just sold our house in Ridgewood after 12 great years but the precarious timing with COVID-19 made us quite nervous. Fortunately for us, Chris guided us through the process step by step (with all the necessary precautions) and made the entire process seamless. In addition to Chris' great personality, what makes Gubb Team so effective is the support team that caters to the clients' needs from the initial staging to the final closing and EVERYTHING in between. So my hats off to Chris, Trina, and everyone who helped us make our house selling experience stress-free! Thanks again, Chris & Team! I know who I will be recommending in the future for buying/selling properties in Ridgewood!
Catherine Copeland
In my efforts to select the very best Realtor in town, I called several friends & conducted my own extensive research when it came time for us to sell our home. After interviewing the four top agents in Ridgewood, Chris & The Gubb Team emerged as the very best option. The entire sales process went along as described in Chris's initial sales plan. We ended up getting more than I expected and closed without a hitch. All through the process, Chris was responsive and caring. Always the consummate professional and graceful communicator, I learned to trust Chris with every negotiation and every detailed decision. I could not be happier with my choice of The Gubb Team.
Giulio Ambrosio
From beginning to end, our home sale was an extraordinarily efficient process yielding outstanding results. Chris' high degree of communication on what to expect, how to prepare, and updates during the entire process truly eliminated the stress we were fully expecting to experience. She deftly addressed the complexities of COVID, our unexpected relocation, and the logistics of our family's international move. Once hired, Chris and her Gubb Team Machine were swiftly put in motion and our home was beautifully staged in days since we were under time constraints. We could have not asked for a better experience or results.
Rosanna Mazzotta
Chris Gubb was singularly excellent- both highly competent and experienced, but also thoughtful, detailed, and truly caring in her representation of our family. Chris ensured that an otherwise stressful process was as streamlined as possible, often anticipating our needs before we even realized them. Chris was immediately responsive, and provided clear, thoughtful information to our inquiries and concerns each step of the way. She and her team staged our first home beautifully which facilitated the sale process; in addition, Chris and her team further assisted in making referrals to reliable service providers (such as cleaning services) and setting appointments with inspectors, etc. For working parents, trying to sell and purchase a home, this comprehensive care and attention were invaluable. In sum, Chris was exemplary in every way.
Mehmet Ulu
We had tried to sell our home numerous times in the past 5 years and were not successful. Christine Gubb and her staging team redecorated the whole home to a modern look with their own furniture and paintings at no cost to us. The way she presented and marketed the home made a big difference in the appeal. We had dozens of appointments to show the home and received great offers soon afterward. She and her team expertly guided us throughout the process to a smooth closing and it was a true pleasure to work with them all.
Lakshmi Mandayam
Chris Gubb and her team outperformed on all our parameters. When you want to sell your house, you look for several attributes in a real estate agent. For me, the ability to sell our house for top dollar, making the process frictionless, and ensuring that the transaction was stress-free ranked at the top. In addition, since we were attempting to buy another house at the same time, speed and timing were also of the essence. Firstly, Chris is an expert at marketing. She knew exactly when to list our house, where to list it, and how to time the listing, the showings, and the open house, to obtain the greatest number of views online and attendees in-house. This essentially created a bidding war with multiple offers on day one of showings, with an exceptional offer well above asking price accepted in just 5 days. Secondly, Chris has an excellent team that kept the process running smoothly, both during staging and while we were under contract. Chris and her stager Barbara created a plan to stage our house to appeal to buyers. Mark, the staging coordinator, brought in pieces of furniture, accents, and artwork. Chris and her team, which included Mark, Barbara, Lora, and even Chris' daughters, effortlessly transformed our house in a couple of hours. Trina, the Operations Manager, and Janah, the Client Care Coordinator, were working in the background throughout the sale process to keep moving things along smoothly. Chris and Trina had recommendations for every kind of service we needed during the sale, ranging from attorneys to contractors, all of whom were prompt and efficient. Thirdly, Chris has the ability to make even the most stressful situations calm. We were selling in the midst of Covid-19, so there were several moments during which we weren't sure of how we should proceed, but Chris steered us in the right direction every time. For example, she put together a plan to have all showings and the open house completed in 4 days, so that the disruption to our lives was minimal. Last, but not least, Chris was always super responsive, coordinated the sale with the purchase of our house, which was also not easy during Covid-19, and ensured a timely and quick sale. To put it simply, anyone who is planning to sell their house in Ridgewood should hire Chris, period.
Chelsea Walsh
Chris and her team were a JOY to work with. We had a tight timeframe to sell our home and they worked with us to make the whole process seamless and easy. The complimentary staging was so helpful--our house looked better than it ever had. Chris's knowledge of the local market is extraordinary and she priced our home perfectly, so it sold above our asking price within a week of it being on the market. She also helped us purchase our new home and negotiated a great sale price for us. Most of all, Chris is kind, compassionate, responsive, and a true pleasure to work with. We recommend her highly!
Sean Kim
Thoroughly impressed by how well Chris and her team work in terms of the end-to-end home selling process. From the get-go, Chris explained exactly what steps will be taken in what order and within a couple of days, we were given a formal schedule in an email. Everything went as planned and a month later, our house was sold at above our listing price. Chris was very attentive in what we had to say throughout the process and one of her people were always there whenever we needed something. I highly recommend the Gubb team to anyone looking to buy or sell properties!
Susan Pauley
You NEED Chris Gubb as your realtor! She is so well versed in her craft and beyond that, she is the nicest and most pleasant person to deal with. She alleviates stress with her smile and warm personality. She has a very professional team that is top-notch. Together, they walk you through the process without missing a beat. My husband and I feel very blessed to have had them all working for us!
Diane and Darlene Pursley
Chris Gubb worked with our family to sell our parent's home and her guidance through the process was invaluable. She came highly recommended to me and I am so grateful. When it came time for staging, Chris and her team made the house look amazing and totally transformed. She was always available whenever we needed her for big things and little things and made sure everything went off without a hitch. Ultimately, we were thrilled with the final price and the closing process was super-smooth.
Bandelt Family
There's a reason why Chris Gubb consistently ranks among the top realtors in Ridgewood. She and her team are simply the best. Chris went above and beyond selling our home To begin, Chris helped us time our listing date to coincide with increased demand in the late spring market. The Gubb Team staged our home perfectly and delivered high quality photos, videos, and social media content to attract buyers. When the house went on market, she helped us effectively handle a multiple offer situation and maximize the value of our home. We are thrilled to have worked with Chris, and highly recommend that you consider her and the entire Gubb Team.
Steve Olson
Christine was a true partner in the process. We had an amazing experience with Christine and her whole team. She is extremely knowledgeable about the market, very professional, and very responsive. She assessed our home, staged it beautifully, resulting in a quick sale. Also, it was the first time we sold a house and her guidance on administrative matters and the selling process were invaluable. - I would highly recommend her.
Peter Dykstra
Chris took on the challenge of orchestrating the coordination of our sale and purchase perfectly and met the goal with time to spare. At our first meeting, Chris gave us a realistic assessment of our house and the sale process, with a clear step-by-step description of expectations on both sides. She took the time to address all of our questions and concerns in detail upfront. Within a few days, the Gubb Team had given us a list of things we could fix in a week to eliminate potential issues for buyers, staged the house, took photos, created an effective online presence, and scheduled showings. Within a week we had multiple generous offers resulting in a sale. Every member of the team was thoroughly professional, attentive to detail, and a pleasure to deal with.
Robin Johnson
From the first phone call through every stage right up through the closing, Chris and her team were phenomenal. Chris took her time to describe the process, starting with the stager all the way through closing. She was available during every step, not only responding to all questions but pro-actively reaching out. We received a stunning number of offers to consider and Chris presented them in a manner that made comparison easy, allowing us to make an educated decision. She negotiated the best deal for us and fully remained involved until the sale was completed. I have no reservations recommending Chris Gubb!
John Dempsey
During our first meeting with Chris, she thoroughly outlined the process of selling our home, her marketing and pricing strategy, staging services, and expected time on the market. We always felt comfortable knowing what was 'next' and the process proceeded exactly as she described. All begin with Chris and her staging team setting a plan and within days they were at our home transforming rooms. A professional photographer came the next day and took beautiful pictures which were posted online. The preplanning of the showing of our house made us very comfortable with our choice of realtor. On the first day on market we had four showings and one offer. A few days later was the open house. We received three more offers. The next day Chris reached out to all the realtors whose clients made offers and explained the facts. One house for sale and multiple offers. By the end of the next day We had two offers at the asking price and two over. Chris reviewed all the offers with us pointing out the strengths and weaknesses of each offer. We made our decision and had a signed contract the next day. Total time on market was 7 days. I could not imagine a closing going any smoother. The closing of our new home was just as smooth. Thank you to Chris Gubb and the entire Gubb team for their hard work in the selling of our home and the purchase of our new one.
Theresia Hartl
Chris set the best example of how a realtor should conduct business. All aspects of the transaction were handled in a very timely and professional manner and we were thrilled with the final outcome. We highly recommend Chris and her team.
Kim Choi
We met Chris 10 years ago when we purchased our home in Ridgewood. Even then, she was extremely patient as we saw house after house, all over Bergen County, before finally settling down in Ridgewood. When it came time to sell, we immediately reached back out to Chris. We had no doubt that our house would sell but Chris and her team truly transformed our house with their magical touch and we ended up receiving multiple offers. The Gubb Team goes above and beyond and everyone on the team is amazing!
Michael Gilman
After an unsuccessful attempt to sell my property, I interviewed Chris along with a number of high-profile Ridgewood realtors and I couldn't be happier with my choice. She skillfully managed a challenging situation with an existing tenant while I resided in a different state. With persuasion and care, she was able to arrange the tenant's approval for the prep and staging of my home as well as lots of available showing times. Everything went swimmingly and Chris' efforts resulted in multiple offers the 1st weekend of the open house. Don't let Chris slip through your fingers. If she's available you will not be disappointed.
Paul Kim and Soo Jin Hwang
Clearly, Chris's success speaks for itself, as I am just one sparkling review of many, but great professional service should be recognized amidst all the noise. Through real estate portals, we knew Chris had several luxury listings parallel to our more modest home, but you honestly wouldn't know it from the time and attention she spent with us. Chris and her team went above and beyond in preparing and staging our home and the end result was a home that easily looked twice as good as the original state.We were working through a relocation company and the buyer was an investor, both of which had their own challenges, but Chris was really quite deft in navigating us through the process, all while providing a remarkably empathetic ear during the more stressful times. Her sense for what would work, which path and approach to take proved vital in the closing of our home in a timely fashion. We couldn't recommend Chris more highly.
Donald Pierce
When you read Chris Gubb's reviews, along with mine, BELIEVE THEM! You won't find a more knowledgeable, hard-working person as your partner. Living in Texas and being the executor for my aunt's home in NJ meant choosing a realtor from online profiles rather than face-to-face contact. I spoke with six or seven realtors and read all the reviews on each of them. When I decided on Chris Gubb, I didn't know her at all and didn't meet her until we were actually doing the cleanout. All of our conversations were via email, text, and phone but she and her team made the paperwork a breeze...and this is coming from someone who doesn't know much about the various procedures. We ended up with a contract in two short weeks for a price we were extremely happy with.
Keith Polak
Chris and her team were very professional, thorough, kind, and courteous throughout the whole process. Having a team allowed her to be effective in setting expectations, staging our home, orchestrating open houses, and advising us through the closing process. She and her team help guide us all the way to the end. Highly recommend the Gubb Team.
Wu Sok Yi
We worked with The Gubb Team to sell and buy houses. Chris helped us prepare, stage and market our home and after the first weekend we had many multiple offers to pick from. During the inspection, an oil tank was discovered and Chris gave us the name of a very responsive resource. She constantly followed through to make sure all was going well. On the buying side, David Gubb helped us find a very nice house within our parameters. Overall, I really enjoyed working with Chris and David Gubb and The Gubb Team. I will refer my friends to them at any time.
Kyoko Okabe
We had observed Chris' successes in our town and were impressed with her large support team of professionals who were exclusively dedicated to her efforts. Within days of listing, we had multiple offers and sold the house for more than we were anticipating. Chris was involved, sharp, genuine and a seasoned pro that was there for us every step of the way. We were so pleased that we chose her. If anyone is looking for the best, she would be the one and smart choice.
DNG
Chris and her team did an amazing job from start to finish to help us sell our home. She guided us throughout the process and made sure we were able to meet our target closing date. Kudos to the staging team (Barbara and Michelle) who literally transformed our home in preparation for marketing. The team was courteous, friendly, and knowledgeable. Great effort from everyone to get the job done.
Rishi Pande
From start to finish, Chris and her team were just amazing. She knows the market and real estate better than anyone. Chris had initially helped our family buy a home years ago with such professional ease so when it came time to sell for our relocation, we never considered another agent. Her marketing process was thorough, the transaction efficiency was flawless and the results were outstanding… offers in 3 days well over list price. She's simply the best!
Tracey Taylor-Tocci
Chris exceeded our expectations! A true professional in every way. Having been a realtor myself, I was looking for someone that would truly give 100% attention to the sale of my home and Chris certainly did that.
Marylou Fulford
Chris responded quickly to my concerns and used her many years of experience to head off any issues before they became issues. Chris is a true professional. She handled my sale efficiently and expertly. She has access to a stable of highly competent individuals, including stagers, movers, and cleaning services to ensure that the sale and the move went off without a hitch.
Rob Williams
We found Christine Gubb and her team through the glowing references of others, and boy were they right! We were so impressed with her knowledge of our community and its market, with her expertise and track record in sales, her warmth, and appreciation for our struggle to prepare and let go of the house that had been our home for 31 years, where we had raised our children, and accumulated our overwhelming clutter! With great understanding and, I will say compassion, she guided us through the process of de-cluttering our home in order to stage it beautifully. Along with her Gubb team of associates, she put on a full-court press through every sort of media leading us to a packed open house and four offers. In the end, we accepted an offer for almost 10% above our asking price, and with the help of her attorney, were through attorney review, under contract, and through the home inspection all in about four weeks. When we closed, just 6 weeks after the listing went live, we were thrilled and oh so grateful for Chris and her great team. I have watched friends go through the process of selling their homes and none of their realtors can hold a candle to Christine Gubb! We were blessed!
Marc Goldfarb
Chris was instrumental in closing the sale of my parents 90-year-old property in Ridgewood. Her initiative and persistence are superior to any other brokers that I've worked with, either commercial or residential. When the sale became bogged down with difficult buyer demands, she found good solutions and rescued what would clearly have been a failed situation. She went way beyond the "call of duty" in getting our sale complete.I give her an unqualified superior recommendation.
Lynn and Rob
Chris guided us unerringly through the daunting and overwhelming process of getting our home of 20 years on the market...advice on where we needed to focus our home improvement efforts, staging for best effect, marketing strategies...they know exactly what today's buyers are looking for and helped us maximize the potential value of our home. Aside from being a true real estate professional, Chris is also warm, gracious, and down to earth. We felt immediately comfortable with her. Our home sold quickly and closed without any last-minute issues, all of which we attribute to the expertise of Chris and The Gubb Team."
David Kienast
As soon as I met Chris, I knew that she was the person who would sell my home. She is very honest and direct in her approach and combines know-how and very precise skill with determination and energy. It did not take long for Chris to prove me right. She analyzed the market and my home to establish a price and game plan. Within the first week on the market, we had four very solid offers. It was simply a matter of selecting a buyer best suited to the purchase of the property. I have worked with many realtors during my life, but none compare to Chris Gubb.