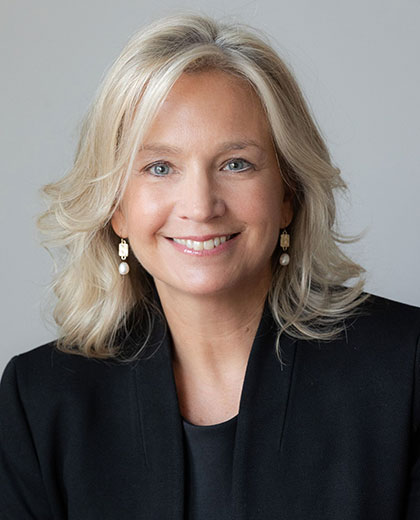 Realtor
Pam prides herself on delivering results and exceeding Client's expectations. For her, the difference is in the details. As a consistent top-producing agent, Pam has a proven track record of seamless transactions, exceptional customer service, and fine-tuned local knowledge. For Sellers, she presents creative ways to market the home overseeing all showings, and for Buyers, she goes the extra mile to make the offer stand out. All clients benefit from her loyalty, expert negotiation skills, and relentless efforts in achieving their goals.
Brenna Ballan
Pam's negotiation skills were fantastic and we felt she really would do anything to help us find our dream home... and she succeeded! We could not be more happy and will be recommending Pam to all of our friends when they are ready to buy! Pam helped us buy our first home in Wyckoff NJ. She was so patient and we were able to reach out to her at just about any time of day to ask about seeing homes. In this crazy market and with COVID appointments needed to see homes, Pam was always on top of it, calling to get us in and making appointments at times where we were able to see 3-5 houses in one afternoon! She went above and beyond and was so personable that I felt I could be extremely honest with her which is so important during the home buying process.
Betina Sheridan
I would HIGHLY recommend Pam to anyone because she is the best out there! I went to an open house while we were using another agent and then I met Pam. I immediately told my husband we are going to start using her! She right away completely understood our needs from a human non-business perspective. She has been EXTREMELY flexible with her hours and always is available to text or call. I now ask her about local events going on because she knows everything!!! I never once felt like I was working with just an agent, Pam makes finding a home less stressful and you feel like you're working with a friend. With every home we saw we were all on the same page and she never once tried to make us see how it 'could work' . There is nothing worse than having an agent push you into something. Again it was an easy process for us even in this crazy market because we had Pam on our side :) To be honest I'm going to miss meeting up with her, I hope we stay in touch because she's a great person.
Yonibeyehasa
Moving forward, we wouldn't use anyone but Pam, and neither should you! She was kind, hard-working, always available, and gave us fair and honest guidance throughout the process. We relocated from NYC and Pam was the perfect person to help us find our dream home in Ridgewood NJ. Pam also went above and beyond her scope of work and has helped us find painters, interior designers, plumbers, electricians, and everything else we may need to make our move seamless and very enjoyable.
The Taubs Family
Pam is absolutely incredible and we could not be more grateful to have worked with her to purchase our new house in Ridgewood. We were buying from across the country and Pam went above and beyond to make sure we found our dream house. She went to countless open houses to film detailed walk-throughs for us, spent time on the phone explaining neighborhoods, and eventually helped us be the first couple to see the house we were in love with even though we were only in town for a few days. Pam did everything we needed and more to make sure that the sale was done properly and that our offer was accepted. She is deeply knowledgeable about the area, process, and was able to walk us through it step by step without allowing us to feel overwhelmed. She never pushed us, was always honest, and available at all times. We cannot thank Pam enough for her knowledge, kindness, and generosity. We would recommend her to absolutely anyone looking to buy or sell a home!
Amy Junger
I have sold 4 houses in Ridgewood, and using Pam was by far the most stress-free of all my experiences. I cannot recommend her more strongly, and I would not sell a home in Ridgewood with anyone else. Pam knows Ridgewood and real estate inside and out, but more than that she is a savvy marketer with a great eye for what will help make for a quick sale, and she never stops working for you!
JWu Galter
Pam far exceeded our expectations and delivered in selling our home. Pam truly understands the neighborhood and the local market. When we saw our listing we were blown away. Pam's hard work and knowledge is truly understated and we would recommend/use her in a heartbeat.
Daniel Galarza
I don't typically write reviews but everyone needs to know how great Pam was while we were searching for a new home. Could not dream of going through this with anyone else and haven't everything go as smoothly as it did! We were very indecisive and couldn't find anything for almost a year. Pam was incredibly patient with us and walked us through many tough moments. After almost giving up, we found our perfect home and Pam was right there negotiating on our behalf getting us a great price.
Mike J.
We had a great experience with Pam. She gave us sound advice on how to price our house and stage it to sell. She sold our house as an exclusive - over asking price - which was more than we imagined we'd get for our house! She knows the market and found her background in finance was an added plus. We were in good hands from deciding to sell to the closing.
Maris Katz
Pam helped us find our dream home in our dream town before we even really knew what we were looking for! She made the process seamless- even with the Covid-era craziness- and even more importantly, was a sounding-board, a cheerleader, and a friend throughout. We have been in our home for 6 months and couldn't be happier.
Mark Cooper
Pam went above and beyond to get us our home, especially considering we were selling overseas - Pam stuck with us the whole way (2 years). Our attorney had made an oversight, which Pam corrected and saved us thousands. Pam was extremely attentive to what we wanted and throughout the sale/buying process - highly recommend Pam if you are looking to buy or sell your property.
Steven Squillante
We highly recommend Pam, as she made us feel as if we were part of a community before even moving in. Despite the many stresses that come with being a first time home buyer our experience with Pam was incredible. Pam was extremely knowledgeable of the areas we were looking for a home and provided us with a great deal of information with regard to each neighborhood as a whole.
Kye
Working with Pam is like working with a friend who is always looking out for your best interests. We were first time home buyers in a new town and Pam was great to work with. She made a daunting process very manageable and was always available to answer any questions that we had. She was never pushy in the process which we appreciated. I would have no hesitation in recommending her.
Nicole Camacho
Pam took the time to get to know our family and understood the importance of living in an area that each family member could grow and love for a lifetime. Our family could not be happier! Pam offered a wealth of knowledge and expertise in regards to the area in which we purchased our first home and dream home. Pam listened to the variety of must-haves my husband and I wanted in a home and she delivered so much more in the home we chose to purchase.
Khuyn
We highly recommend Pam if you are looking to buy or sell a home! Pam went above and beyond to get us our home. The seller's agent was difficult to deal with and Pam handled it with professionalism. She was very responsive and detail oriented.
J Malaver
Pam is such an amazing realtor. My husband and I met her at an open house and knew right away that she would be perfect to help us find our forever home. She's very personable and willing to go above and beyond for us. We can't thank her enough!
CLWart
Pam is absolutely incredible! I highly recommend Pam to anyone who is considering a new home purchase. She helped my husband and I find our dream home. She will work hard for you and is a joy to be around.
Anonymous
We highly recommend Pam! When we first met her, she heard me mention my preschool-aged daughter and the next day, I received a packet of information on the local preschools. She quickly figured out what we wanted in a house (before we even did!) and found us the perfect home. Now we are the house of our dreams because of her.